The bathroom is a key component to your home. You want to feel relaxed in your surroundings. We can provide you with your dream designer bathroom. Replace your tub for a stylish slipper bath; choose a walk in shower, or huge modern tiles. You choose – it is your bathroom, it is your escape space.
Our Services
Breathe fresh life into your home with a quality bathroom make-over.
A walk in showers with stylish enclosure panels can transform your home.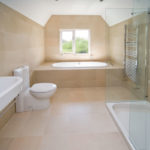 The commitment and quality of work demonstrated by Igloo Construction put me at ease from day one.